Archive for Bibliobiographies
Bibliobiographies is a new monthly feature I'm hosting here at Ruby's Reads. I've had a few bloggers participate so far–if you'd like to be one of them, please sign up using this form. And if you'd like to explore previous Bibliobiographies, check the Features page for a complete listing. This month Mary from The Book Swarm is here to share her life story in books! Welcome, Mary!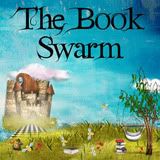 Lucky for me, I was blessed to be born into a reading family. My earliest memories involve walking uptown to our local library, gathering as many books as we could carry and trundling back home to read them. My parents read to my brother and me every single night before bed. We even had special books that got pulled out during the holidays. Two of my favorites were Mr. Willowby's Christmas Tree by Robert Barry and The Country Bunny and The Little Gold Shoes by Dubose Heyward and Marjorie Flack. In the beginning, it was picture books but as we got older, chapter books entered our lives and my world got even better. The book I remember having the parents read over and over was The 101 Dalmatians by Dodie Smith, until the pages started coming out of the binding. Of course, Nancy Drew was also a hit, especially The Clue of the Whistling Bagpipes, which I adored because I played bagpipes (I was much better than Nancy, who probably sounded like cats being skinned alive).  (You are officially the first person I've ever met who actually plays the bagpipes.)
Then, in high school, my friend and I discovered her mom's stash of romance novels and it was all over. I devoured them like love was going out of style. Total book crack. We snuck around, reading them (and all the naughty bits) on the sly until we finally gave up being sneaky and admitted our passion for all things trash novel. My mom just rolled her eyes at us, especially when I would come home with bags of the things, traded with the soccer mom and fellow romance enthusiast down the road.
This obsession lasted through high school, college and some years after until it evolved into paranormal romance and urban fantasy novels. The world is so much better with a little ass-kicking to go along with a good romance. It's like peanut butter and jelly. Brownies and ice cream. Alpha men and strong women. (Those are my favorite, too!)
In the middle of that, young adult novels popped up on my radar and, soon I was reading a crazy mix of all things young adult, urban fantasy and paranormal romance sprinkled with a pile of travel books, humorous essays, mysteries (love those cozies!) and anything else that caught my eye.
And that's pretty much where I am now — reading anything that catches my eye, though I do still have a preference for urban fantasy and paranormal romance (both YA and adult). Actually, it's more like an obsession where I devour pretty much UF or paranormal romance that comes across my plate. I'm a book piglet and hope to always be. (Amen.)
Thanks for sharing, Mary! I love seeing how everyone's Bibliobiography overlaps with everyone else's (and mine, of course!).
I'm excited to be part of the Traced blog tour! If you haven't heard of Megan Squires' Outlier Chronicles, this is your chance to make an acquaintance! Today the author is sharing her bibliobiography and there's also a giveaway! Thursday, I'll be posting my review. In the meantime, here's a tantalizing peek at Traced:
Tessa can't sleep.

But when your parents are dead and the government directs your path in life, sleep shouldn't come easily. Lately, Tessa's fitful nights are growing even more predictable, almost like déjà vu. And she's beginning to think that something greater is at work—something her society has taken drastic measures to keep hidden.

Caught between self-discovery and government conformity, she'll have to choose either the boy who can help her reveal this new truth or the one that can provide her with the security of familiarity.

Tessa's faced with a weighty decision. And she's going to need more than a good night's sleep to make it.

Now for Megan Squires' life story in books! Welcome, Megan!
Bibliobiography
by Megan Squires
I wasn't the reader in my family growing up. In fact, I remember countless times asking my older sister to play Barbies with me, only to be denied because she was deep in a good book. Once I even stormed into her room and tore all of the neatly alphabetized books off of her shelf just to make a statement. Unfortunately, at the time I didn't realize what I was missing. While I was creating my own world with my dolls, my sister was enjoying so many others written within the pages of her books.
My very favorite book as a child was There Were Ten in the Bed.  I loved this story not for the words, but because there was this little wheel that you would turn with each page and a different character would "fall" out of the bed. It was engaging and interactive and reminded me so much of my own bed stuffed with more animals and dolls than I could fit
It wasn't until I was older that I really began reading on my own. I owned Molly McIntire, the American Girl doll, and was fascinated with her stories.  This is where my love for playing helped grow into my love for
reading. I would act out the scenes from Molly's books with my dolls and relive the stories written in them. My mom always ordered them from the scholastic book club, and I remember being so thrilled every time I would find a recent order in my cubby at school. I can still smell the distinct scent of these books and remember their smooth pages. I loved the bit of history that I got to relive each time I read them, and I loved acting out those plots on my own, too.
Throughout my younger years, I mostly read for my school assignments, and when I was in sixth
grade (I believe), we had to read My Brother Sam is Dead. I had already developed a love for historic fiction from my American Girl books, but this was the first book that really sparked a love for reading about war. This book gripped me, and to this day I remember the lines, "Ned's head jumped off his body," and "He'll lead us through the Lobsterbacks like a hot knife through butter." I don't know why these stuck with me, but the descriptive writing was something that got my brain going and I soon caught the reading bug my sister had developed so many years earlier.
Throughout junior high I read pretty much every Mary Higgins Clark book I could get my hands on. My mother read them first, then my sister, and then they were passed down to me, so the mysteries had long been solved, but I loved the suspense in them and how they were just nail-biting enough to keep me reading without terrifying me entirely.
In high school it was back to reading for assignments, and of those I was drawn to works like The Great Gatsby, The Odyssey, and 1984.
It wasn't until my late twenties, after I'd gotten married, worked for several years, had two babies, and finally started sleeping through the night again, that I picked up a book for pleasure again. And you guessed it, it was the Twilight series that got me back onboard. Since then I've read
The Hunger Games
and many of the other popular young adult books, and right now I'm in the middle of the Mortal Instruments books and am finishing up the Hush, Hush series.
I love young adult books because in so many ways I don't feel any different than the seventeen year olds I read about on the pages. We all remember what it feels like to experience love and loss and how extreme those emotions are the first time you're going through them. So in many ways, these books aren't that different from my own experiences, and I find it incredible that I get to relive that time in my life again each time I pick up a new book. Only difference is, there are now a few more angels, demons, and vampires that weren't present the first time around.
About Megan Squires - website, Facebook, Twitter, Goodreads
Megan Squires lives with her husband and two children just outside of Sacramento, California. A graduate from the University of California, Davis, Megan is now a full-time mother, wife, and dreamer – though her characters don't often give her much opportunity to sleep.
Contest Info: Enter for the chance to win a Traced bookmark and an eCopy of Traced to one lucky winner.  All entries into the daily give away count towards the grand prize give-away of a Kindle Paperwhite skinned in the Traced cover art!
Check out the rest of the tour!
Monday, February 11th – A Book and a Latte
Tuesday, February 12th – Coffee, Books and Me
Wednesday, February 13th – The Cozy Reader
Thursday, February 14th – The Book Whisperer
Friday, February 15th – Ticket to Anywhere
Monday, February 18th – Sara in Bookland
Tuesday, February 19th – Tynga's Review
Wednesday, February 20th – Imagine a World
Thursday, February 21st – Oops I Read a Book Again
Friday, February 22nd – Jenuine Cupcakes
Monday, February 25th – Ruby Reads
Tuesday, February 26th – My Neurotic Book Affair
Wednesday, February 27th – The Book Faery Reviews
Thursday, February 28th – Rants N Scribbles
Friday, March 1st – The Book Hookup
Bibliobiographies is a new monthly feature I'm hosting here at Ruby's Reads. I've had a few bloggers participate so far–if you'd like to be one of them, please sign up using this form. And if you'd like to explore previous Bibliobiographies, check the Features page for a complete listing. This month Amy from bookgoonie is here to share her life story in books! Welcome, Amy!
My bibliography may be a tad sad, but it is tale of better late than ever. I didn't have a childhood filled with the love of reading. It wasn't something that was emphasized in my house. Being the oldest of four, I think my mom worked hard to keep the house from being burned down. Maybe if she would have pushed reading, she could have enjoyed more quiet time. With all that being said, I do remember a few library books from my early years. Growing up on a lot of land with a farming family surrounding me, Strawberry Girl appealed to me. And how could you grow up not being influenced by Nancy Drew and the Hardy Boys? I did me some sleuthing back in the day.
In high school, there were a few assigned books that I really enjoyed. Alas, Babylon was an apocalyptic tale that had real possibilities during the Cold War. Yes, I just dated myself. I graduated high school the year the Cold War finally came to a close, 1991. I loved the snarkier-book version of Scarlett O'Hara even more than the fab movie. And for a non-reader, I picked up Wuthering Heights and even read it twice. I loved the dark brooding Heathcliff. Lonesome Dove took me back to my Western-watching-TV days. I watched the first episode of the TV series and it really helped me imagine the larger than life characters. As much as I loved the book, I still haven't watched the entire TV series.
In college, I suffered through much assigned literature. I still have a bad taste in my mouth after 20 years. Pilgrim at Tinker Creek and The Awakening, you know who you are. But there was one gem, Jane Eyre rocked my socks off. It was the first book that I remember not being able to put down.
When my daughter was three, we discovered the greatness that is Harry Potter. We were late on the scene. I think the 2nd movie was out at the time. But we quickly caught up. We enjoyed many years of beddy-by-reading time hanging out at Hogwarts. J.K. Rowling really lit the fire in our love of reading and imagined worlds.
On to my 30s. What's next? I had a short book drought until the Twilight movie craze. The soccer moms all around me were all a flutter and I couldn't be left behind. The the YA flood gates opened with the recommends of Lament and City of Bones. I was so hooked.
Then my good soccer mom and friend introduced me to the world of Urban Fantasy. *clouds part and sun shines down* I get weak in the knees from all the alpha-male-awesomeness, action, wicked world building, kick-ass female leads, smart dialogue and sexy time hotness. Urban Fantasy is still my go-to-feel-good-escapism genre. The world is a better place with vampires, werewolves, witches, and demons.
If you follow my blog, you'll find that I am all over the place. I've even fallen love with zombies. I love following great reader-bloggers. Thanks to them, every book is a good book. As God as my witness, I'll never be without a book in my purse again.
We should take a poll to see how many people got back into reading YA because of Twilight. I don't know about you, but it definitely had that effect on me! Thanks, Amy!

Bibliobiographies is a new monthly feature I'm hosting here at Ruby's Reads. I've had a few bloggers participate so far–if you'd like to be one of them, please sign up using this form. And if you'd like to explore previous Bibliobiographies, check the Features page for a complete listing. This month Chrystal from Snowdrop Dreams of Books is here to share her life story in books! Welcome, Chrystal!
The one thing I remember from my childhood is my mother instilling her love of reading. She was always reading a book when I was a child and she took us weekly to the library, letting us pick out a handful of books each. This is something that I hope to make a tradition when I begin my own family. I will never forget the feeling of picking out my own books to read, having my Mom read to us or sharing my favourite books with my brother and sister. The books I remember most from this time in my life are Alligator Pie by Dennis Lee, Where The Wild Things Are by Maurice Sendak and The Snowy Day by Ezra Jack Keats.
And how could I forget books by Robert Munsch! The Paper Bag Princess was one of my favourites, but the best of all is Mud Puddle (all I remember is listening to Mr. Munsch read his books at my school and he would yell HEY MUD PUDDLE!) and the other one has a song that I still know by heart "Clang Clang Rattle Bing Bang Gonna Make My Noise All Day" from the book Mortimer. These books make me smile just thinking of them. I also adored the Mr Men and Little Miss books by Roger Hargreaves – such colourful and fun books.
As a young adult, we didn't have the amazing books that you can find now. Honestly, teens have so much more to choose from and as a thirty-something I still enjoy the YA that is available – it appeals to many age groups now. I did however read a lot of The Babysitters Club by Ann M. Martin, anything by Christopher Pike and I adored the Fear Street novels by R.L. Stine. I actually collected all three series as a teen and had tons of books filling my shelves. I think I sold them in a yard sale when we moved, but I honestly wish I had kept them all. My all time favourite R.L. Stine books were the three books in the Fear Street Saga (The Betrayal, The Secret and The Burning).
I went through a phase near the end of high school where I only read V.C. Andrews books. The series that stands out in my mind the most is The Cutler Series (Dawn, Secrets of the Morning, Twilight's Child, Midnight Whispers and Darkest Hour), though I am not sure that I would recommend it for anyone under 19 now as the subject matter is quite adult. How did I get these past my Mom?!? Funny enough I have never finished the original Flowers in the Attic series (I've only read the first book in that series).
In college I started reading historical romances. This is mostly because my Mom was very into them as I was growing up and I was not allowed to pick one up until I was 19 years old. But the minute I realized that these books were in my reaches I devoured them. My mother always read Bertrice Small books and she had every single one at home. My sister and I began reading them and started our own collection. The books are amazing – so much history, culture and romance (and ahem more). My favourite books my Bertrice Small are The Kadin, Skye O'Malley, Love Slave and A Memory of Love. I still need to finish the Skye O'Malley Saga, but it is one of the best by Ms. Small.
Funny enough that in my late teens/early twenties that I would read quite adult novels and then in my late twenties/early thirties I find myself reading YA books. And also, a humorous side note to this is that I have my mother to thank for that as well. My mother introduced me to both Harry Potter and Twilight – who knew she would devour these books and recommend them to me? This started my love affair with YA books and I cannot seem to get enough of them.
And right now I seem to read a mixture of YA and adult fiction. I have a penchant for zombies and dystopian stories (especially for YA) and then I am loving historical and contemporary fiction for adult reads. Here is a sampling of books I've enjoyed in the past year: White Horse by Alex Adams, On the Island by Tracey Garvis-Graves, The Midwife of Venice by Roberta Rich, God Save the Queen by Kate Locke, Blackwood by Gwenda Bond, This Is Not A Test by Courtney Summers, and The Daughter of Smoke and Bone by Laini Taylor.
I hope you enjoyed my walk down memory lane and can see that I have an eclectic taste in books. And thank you Ruby for inviting me to be a part of your wonderful feature!
Thank you, Chrystal! It's always fun for me to look at others' Bibliobiographies and see where they warp and weave with my own. Personally, I charge the Harry Potter books and Twilight with getting me interested in YA, too. I think they've had that effect on lots of us! (Oh, and I always thought it was "Beatrice Small"!)
Bibliobiographies is a new monthly feature I'm hosting here at Ruby's Reads. Last time, Smash from Smash Attack Reads shared her Bibliobiography, and before that, I whipped up the inaugural edition (and I'll likely be revisiting my own reading past at some future date). This month Stephanie from Once Upon a Chapter is here her life story in books! Welcome, Stephanie!
Hi there! My name is Stephanie and I can't remember a time when my life didn't include books! Like most people my first introduction to books in mass quantities was through my local library. I remember weekly trips to the library and bringing home more books and worlds to discover. It made a life long reader out of me and Ruby has graciously invited me to share some of the books that have helped to shape the person I am today.
The Early Years
Some of the best books that I can remember from my childhood are The Pokey Little Puppy by Janette Sebring Lowrey, The Berenstain Bears and Too Much Junk Food by Stan and Jan Berenstain, and Green Eggs and Ham by Dr. Suess. Each of these books brings a smile to my face. I can't tell you how many times I read The Pokey Little Puppy. Silly puppy! While I probably made my way through all of the Berenstain Bears books that my library had, The Berenstain Bears and Too Much Junk Food was my absolute favorite. Clearly I didn't really take the lesson to heart! Out of all of Dr. Suess' books I think that I could still recite most of Green Eggs and Ham. "I do not like green eggs and ham! I do not like them Sam I am!" – Dr. Suess, Green Eggs and Ham
Elementary School




While these books were required reading in elementary school, I vastly enjoyed these books and they made a lasting impression!



Matilda will most certainly always hold a special place in my heart. I adored it the first time I read it and that hasn't changed a bit from the first read. I mean seriously? A young girl who enjoys reading and learning above all else, who's family does not understand her, and who attends a school with a frightful headmistress? Who can't relate? I discovered Into the Land of the Unicorns on a friend's personal bookshelf and when I was allowed to borrow it, I found another heroine who enjoyed reading, but this time was thrust into a land filled with talking creatures and best of all? UNICORNS! I don't think that I have to mention the Goosebumps series to any child of the '90s. You just know.
Young Adulthood




Throughout much of junior high and high school I didn't read a lot. I had lost interest. There were still a few books here and there but nothing earth shattering. I remember two books from my senior year in high school. In My Wildest Dreams by Christina Dodd was my first introduction to historical romance. Harry Potter and the Sorcerer's Stone by J. K. Rowling was my first introduction to a new genre emerging; books that would appeal to both children and adults.
Adulthood




I have learned since becoming an adult and being fully responsible for my own entertainment that I am an eclectic reader. I read everything from middlegrade to adult, from classics to romantic suspense. If a story is interesting enough to me I don't care what packaging it comes in.



While I have greatly expanded my reading to numerous genres, I still hold a special place in my heart for historical romance. Without these books I may have let my reading habit die off again. If you're looking for a great historical romance to sweep you away from your present, I cannot recommend these books enough!



Over the past two years I have started reading more and more young adult. I can't tell you what a needed change of pace this was. I suffer from genre burn out very easily and having one more genre to chose from is awesome.
Thanks for stopping by, Stephanie!
While you're here, check out my giveaways:

Audiobook of Eve & Adam by Katherine Applegate and Michael Grant