Ruby's Bookish Bundles is a new feature I'm starting here on the blog. In it, I'm going to post about three books:
Want Now: One recently released or already published title I'm lusting after.
Want Soon: One upcoming title I'm looking forward to, based on things I've heard, the cover, and the description.
Want Someday: One upcoming title I've heard about that sounds like it could be interested but is so far off into the future it doesn't even have a cover yet.
I love discovering new books, and I love sharing about the books I discover. However, I've been wanting to do something a little different from (and more involved than) a WoW post, so I created this new feature for myself. Anyone is welcome to participate, or to share their own wants. If you do so on your own blog, leave a link so I can visit!
I love Historicals! Maybe it's all the dresses. Or the oh-so-polite manners. I don't care. Straight up historicals or Historical fantasies…I love them all. Here are some gems I dug up:
Want Now:
No brainer. I loved Bewitching Season (a pre-blogging read), was so-so on the sequel, Betraying Season, and am currently waiting for the extra cash that will allow me my next hardcover purchase from Amazon. My pennies, nickels and dimes will start to add up eventually. Right? Right? Hello?
In this anthology, 20 authors explore the dark and hidden meanings behind some of the most beloved Mother Goose nursery rhymes through short story retellings. The dark twists on classic tales range from exploring whether Jack truly fell or if Jill pushed him instead to why Humpty Dumpty, fragile and alone, sat atop so high of a wall. The authors include Nina Berry, Sarwat Chadda, Leigh Fallon, Gretchen McNeil, and Suzanne Young.
Add Two and Twenty Dark Tales to your Goodreads wishlist.
Want Soon:
Small finally talked me into watching Downton Abbey and, of course, I fell in love. I can't wait to try this one, even if it is a rip-off. Also, my house totally looks just like this. And, yes, I post against stone walls in ridiculously long dresses all the freaking time.

A dark and eerie retelling of Snow White from Lili St. Crow, New York Times bestselling author of the Strange Angels
series.Sixteen-year-old Camille doesn't remember her life before she was adopted by the powerful Vultusino family—the missing childhood years that left her scarred and silent. Now she lives a life  of luxury, protected by the supernatural Mafia Vultusinos, specially Nico, her adopted brother.But Cami knows that she is not really Family. She is a mortal with a past that lies buried in trauma. And it's not until a mysterious boy approaches her and reveals scars of his own that Cami begins  to uncover the secrets of her past . . . to find out where she comes from and what danger she now finds herself in.
Add Nameless to your Goodreads wishlist.
Want Someday:
Fairy tales are for children. My name is Rapunzel and I will tell you my story. I will tell you the truth.
Add My Name is Rapunzel to your Goodreads wishlist.
As always, feel free to recommend any titles you've come across, are waiting on, or have just plain piqued your interested, Retellings or no!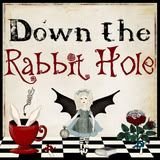 Have you seen Amber @ Down the Rabbit Hole's Fairy Tale Friday posts? They're lots of fun! She tackles a different fairy tale in photos every week!
5 Responses to "Bookish Bundles: Retellings"